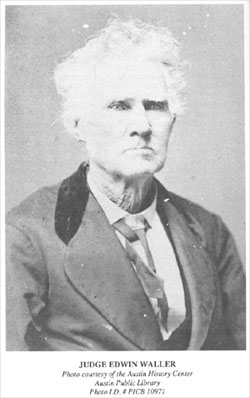 Ancient Free and Accepted Masonry was first introduced to Austin on October 11, 1839, almost a week before President Lamar made his somewhat flamboyant entry into the town to establish the Republic's government. Edwin Waller was in charge of preparing the government buildings for occupation, but even with this burden he found time to offer his house for a meeting called "for the purpose of taking the necessary preliminary steps for the formation of a Lodge". Fourteen Master Masons attended, agreeing to sponsor a petition for a lodge, and by the time the request was presented to the Grand Lodge of the Republic of Texas the number had swelled to twenty. Such immortals as Edward Burelson, Alexander Russell, Louis P. Cooke, Edwin Waller, James Izod, Charles Mason, and Joseph Waples were present to make the request. Branch T. Archer, the Grand Master of the Grand Lodge of Texas, on November 7, 1839, issued a document, attested by Grand Secretary George Fisher, authorizing the organization of Austin Lodge No. 12.
Grand Master Archer appointed Anson Jones as installing officer, but he could not perform the task, so George Fisher constituted the lodge. Alexander Russell, who had lived in Texas since 1834 and had been active at Brazoria in the formation of the first Masonic Lodge in Texas, was installed as Worshipful Master. James Izod became Senior Warden, Charles Mason became Junior Warden, and Augustus Seeger served as Secretary.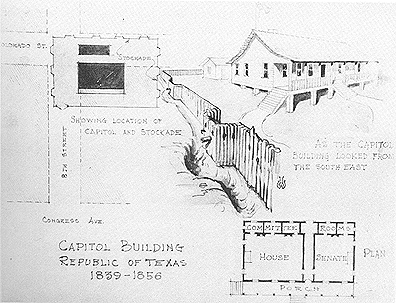 At the time Austin Lodge's formation was approved, the Grand Lodge of the Republic of Texas was itself only a little under two years old, having been organized at Houston on December 20, 1837. Since the capitol had been moved from Houston to Austin, it was natural that the persons connected with the government would follow, thus pulling from the Masonic strength of Houston and adding to that of the new capitol city. Austin Lodge No. 12 hosted the Grand Lodge of Texas six times between the years 1840 and 1852. Meeting at the "Lodge Room" or at "Masonic Hall" the Grand Lodge met in Austin on November 9, 1840, November 8, 1841, January 12, 1845, January 10, 1848, January 21, 1850, and January 19, 1852. Austin, was indeed a center of Masonic activity and its Masonic lodge was, no doubt, a gracious host.